Exactly one year ago, I reached the summit of Mt. Whitney. It was exhilarating, so much so in fact that I napped for about 2 hours on what should have been a quite uncomfortable rock. This year, the group was smaller due to various injuries and other age related issues that shall remain unmentioned.
John, Keith, Shannon & I arrived at the somewhat comfortable Comfort Inn around 10:00pm Saturday night and got up around 4:00am Sunday morning to start from the Portal by 5:00am. Elevation = 8,360 feet.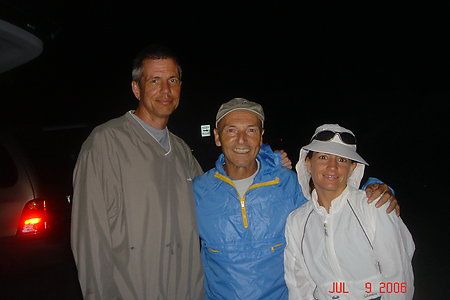 About a half hour into the hike, we saw a breathtaking sunrise.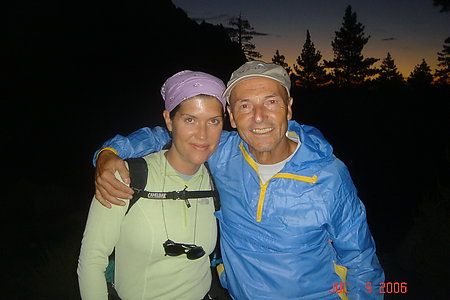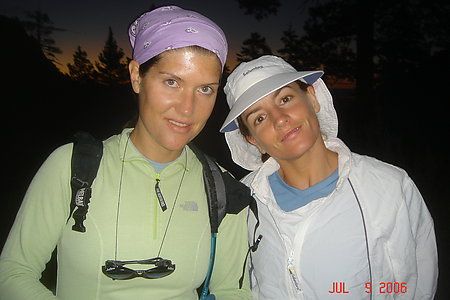 We hoped to hike the 11 miles to the highest point in the continnental US (14,494 feet) by noon.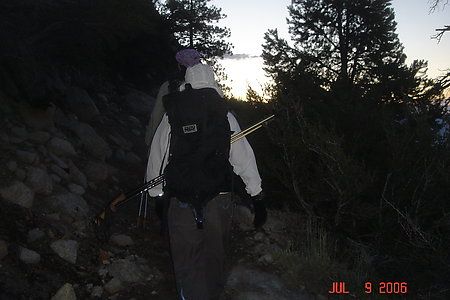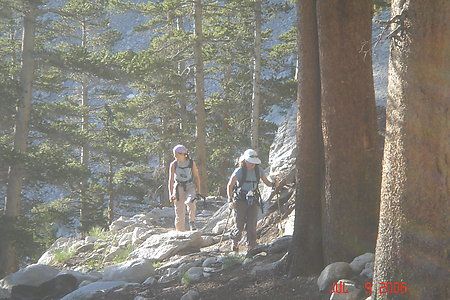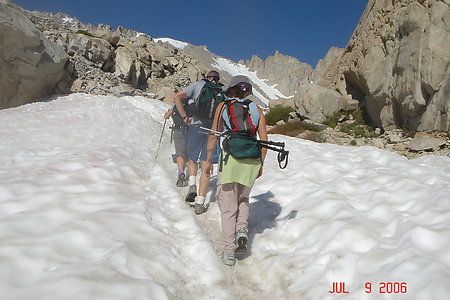 There was a lot of snow melt so we crossed quite a few streams and were treated to some spectacular waterfalls.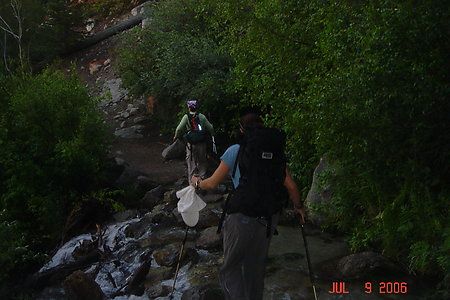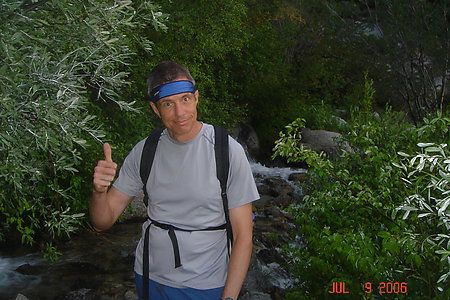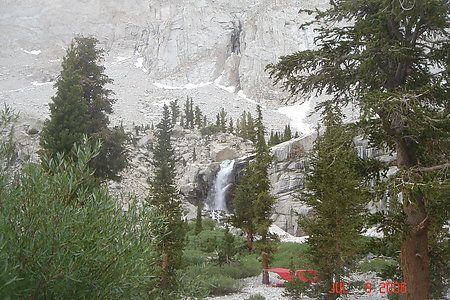 Somewhere around 10,000 ft, the elevation started to have an effect...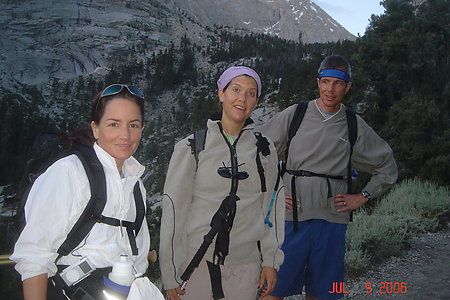 Despite an injured leg, John made it 6 miles to Trail Camp, elevation 11,992 ft.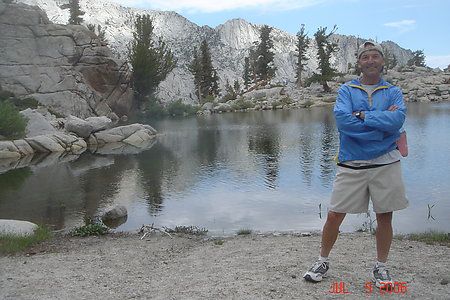 We spent 20 minutes at Trail Camp eating, resting, & eating some more.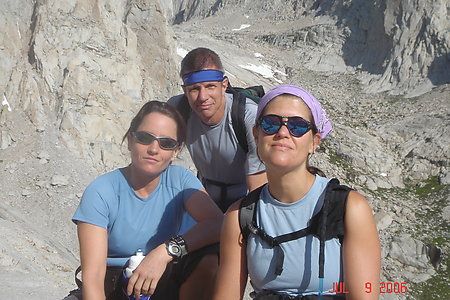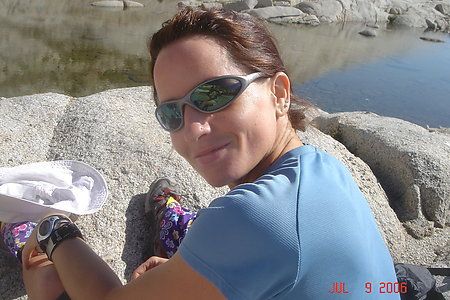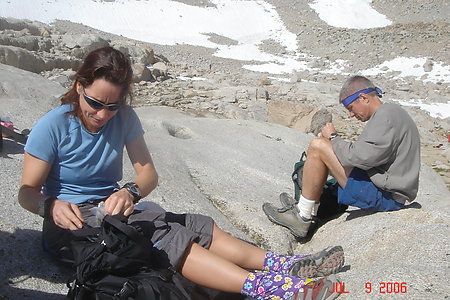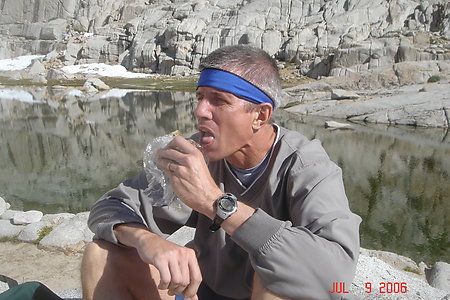 For the first few hours, we couldn't stop commenting on how perfect the conditions were that morning. By now, you've probably heard the phrase, "then the weather hit," right? Well, it hit harder than a juiced up Barry Bonds homer. Around the 8 mile mark, we saw the clouds starting to look a bit ominous, then realized that we were the only ones still going UP. In fact, everyone else, including the obviously well prepared & experienced hikers were turning back. Elevation 13,672 ft.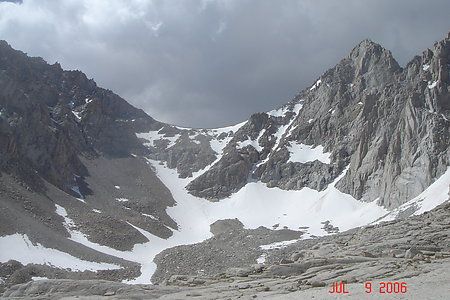 We took a vote: all those in favor of turning back: two (Keith and Shannon). Those opposed: the another year older and not necessarily wiser, me. On the way back, it was a weather smorgasborg: Snow, sleet, hail, rain and a few close calls with lightning. Needless to say, not many Kodak moments here. Sorry. Just imagine three hikers carrying lots of gear going through a washing machine spin cycle. Some of that gear included aluminum trekking poles which caused me a bit of concern during the lightning storm, so I stayed low and as close as possible to the 6 foot 3 inch Keith.
Everytime a deafening clap of lightning struck, Keith's pace quickened tenfold. We made it back down in record time. During the last two miles, we were treated again to clear and sunny skies so we were completely devoid of any evidence of the weather misery we had endured. Total hike time was 9:57:24.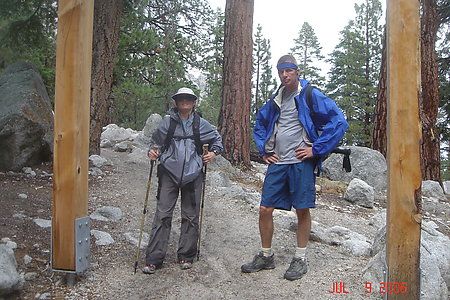 Lesson learned: never comment on the weather until after everybody has returned and is safely situated inside the car, even if it looks this beautiful...