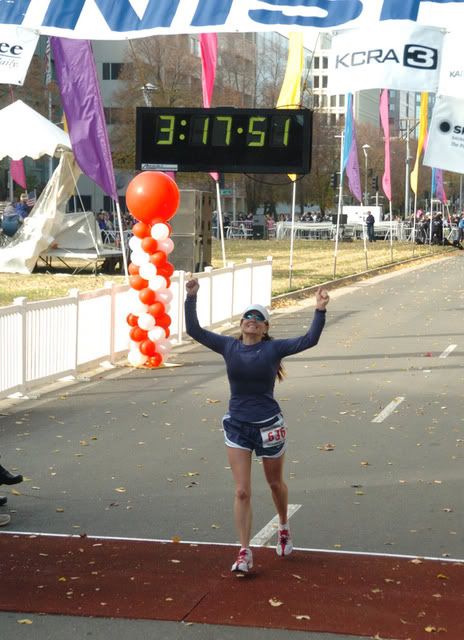 The California International Marathon took place on Sunday, December 2nd in Sacramento. About 6,000 runners and 3,000 relay runners participated. This event is known for being speedy since it starts in Folsom at 338 feet above sea level and finishes at the Capitol Building in Sacramento which has an elevation of 21 feet. However, there were lots of short rolling ups and downs, including a bridge over the American River at Mile 22. The weather was about 39 degrees at the start and around 52 degrees at the finish with some breezes. In other words, we went from "Way too cold to do anything except stay in bed" to "Perfect weather for running!"
The night before the race, I ate my usual white rice in the Sheraton Grand hotel room with Mom & Lorenzo. My fortune cookie note stated: "Tomorrow will be a happy and memorable day for you" which sounded too good to be true, but I tucked the slip of paper into my racing shorts, just in case... Sure enough, sometimes the cookie writers are suprisingly accurate! I finished in 3:17:51 feeling better than I can ever remember feeling, considering I was running a marathon. (Previous PR was 3:19:17, Detroit, 10/17/06). I attribute that mostly to Coach John for bringing me so very close to death during my track training sessions, thereby making the marathon seem somewhat easy in comparison; to my training partner Lisa for being "anal" about training, and to Lorenzo for his terrific impersonation of Governor Arnold saying "Ah'll see yoo aht da feenish line" sometime during Mile 22! And of course, to Mom, for being at Mile 7 and the finish! CLICK ON PHOTOS TO SEE THEM BIGGER.
Mom waving at Mile 7.
It looks like we are running right into Denny's during Mile 9!
Beautiful colors along the course...
More amazing colors!
Plenty of aid stations, great volunteers!
I did not make that mess!
Rare sight: Runners running away from a bagel shop!
Another strange one: Running towards the bulls!
Somewhere around Mile 20.
The downhill after the bridge was "lucky and memorable" - just like the fortune cookie predicted!
Friend and Sacramento local runner - Michael Farrell at Mile 25.
Just two more left turns to finish at the Capitol!



Feeling pretty good at Mile 26.
Last turn before trying to "sprint" to the finish line!
Thanks Mom!
It "SHER" felt great to finish!
Angela's height + Mom's height = Michael's height!
Michael had a great race considering he ran at high altitude!
CHRISTMAS TREE
(get it, "capital" Christmas Tree!?! Ha!)
After the photo, we rang the doorbell and then ran away before Arnold could answer the door!
Terrific event, nice town, great weather, and lots of fast finish times! Definitely was "happy and memorable!" Thanks Fortune Cookie Writer!
For results, click HERE.