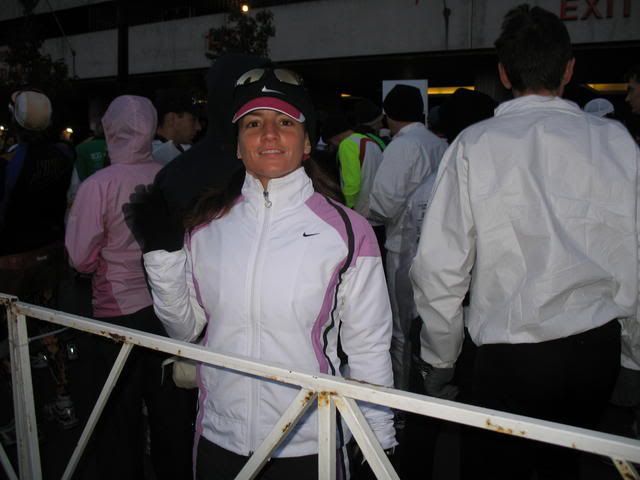 3:19:16 - a new PR!
The weather was ideal, and the extra hour of tossing & turning last night didn't hurt either. During the first mile, a band played "One, Two, Three O'Clock, Four O'Clock Rock" which permanently embedded itself on loop play in my brain. The only hills to speak of were the verrrry steep bridge at mile 3 into Canada and the tunnel to get back into America. The Canadians were quite supportive and could be heard to cheer us on with, "Good pace, eh!" and "Keep it going, eh!" Then at mile 7 we returned to the States via underwater bridge, the only international underwater mile in a marathon. Little did I know that the underwater mile was timed. Mine was 6:55 which was apparently good enough to allow me to re-enter my home country. The tunnel also provided a nice break from the wind. Although it was sunny, the wind was non-stop. One of my later miles was 7:35 but I must admit that was the only time we were traveling with the wind at our backs. Everything else seemed like the gusts were from the side or straight against us. I'm no wind expert but others were heard to say that the gusts reached up to 25 miles per hour. The scenery was either really dull (factories) or really spectacular (running alongside the river inside a park with amazing fall colors in the trees). It was a particularly great race for a sports fan since we ran past the Joe Louis hockey arena, the Comerica baseball park, and finished on the 50 yard line of the Ford Field football stadium which was fortunately a dome stadium and warm and indoors and wind-free. Spectators filled the seats and finishers were shown on a giant indoor television monitor, which is as close as I've ever gotten to having an NFL career!
Results:
http://www.detroitfreepressmarathon.com/results.htm
Starting into the sunrise.