Tired of running around LA and Santa Monica, Angela was hoping for some new scenery on her long training runs in preparation for the Detroit Marathon. Solution? Couchsurfing in San Luis Obispo! Of course, while we're up there, what else to do?
Rockclimbing, of course!
We stayed with the most amazing folks in the most amazing house. I wish I had taken pictures! Laurie, Sean and Larry actually live in Atascadero, not far from SLO. Their house is practically a resort - definitely a "retreat" - at least for easy-going, eco-conscious, nature-loving weirdos... like us!
We arrived Friday night, having left work early. Lucky for us, Laurie and her housemates were hosting a Raw Vegan Foods dinner party, and several friends came over to help prepare and share. Angela and I spent some fun, messy time cramming hundreds of tiny green grapes into a noisy, thrashing juicer. The grapes came from a local un-tended vineyard, and they had brought back at least 50 lbs! The resulting juice was incredible. Dinner was a wonderful event, and afterward we all "retired" to the living room for hula-hoops, juggling, acrobatic yoga and fun trivia quiz!
Saturday morning Angela ran a quick 7 miles on a paved trail from the 101 to Avila Beach, while I rode my bike along for company. Afterward we went back to the house and packed up for climbing. Laurie and Larry had never been rockclimbing before, even though SLO offers some excellent crags and supports a healthy community of climbers. So we got to break them in... and WOW - Cabrillo Rock couldn't have been a better spot to do it! At the end of the day we were still up on the mountain for the sunset. We paused our activities and sat on the rock to watch the sun sink below the horizon. I'm confident it was the most amazing sunset I've ever witnessed.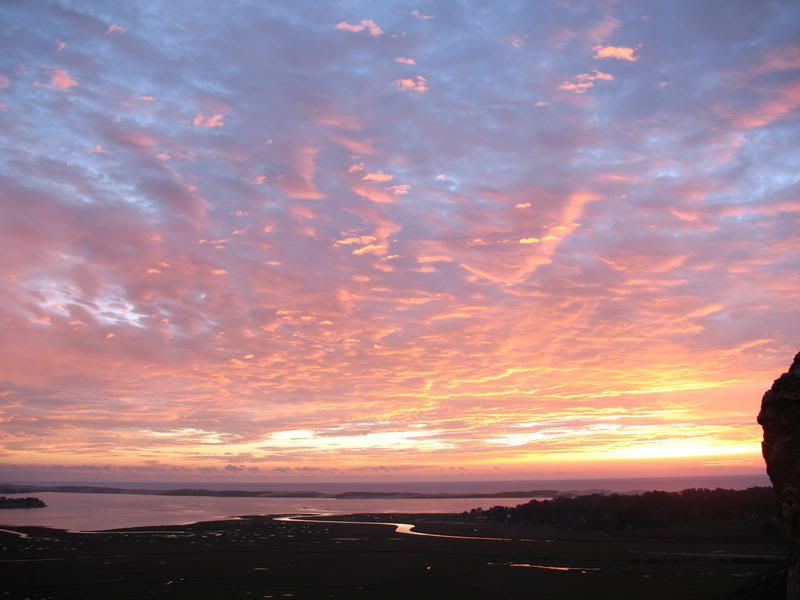 After an amazing afternoon and evening of climbing, Sunday dawned cold and damp, and Angela had 15 miles on the training schedule. We went out into the wine country and did a loop route through the rolling hills of vineyards. As usual I rode my bike - I have a long way to go before I can run anything like this with the strong and speedy Angela. Under an occasional light drizzle and cool breezes, the SLO valleys were foggy and clouds hugged the low mountains around the valley. Why didn't I bring my camera?! The back roads through the vineyards are perfect for running and road cycling, though our route did take us on a little too much 4-lane highway. We'll plan the route more carefully next time.
We made some wonderful new friends and we're all planning a Joshua Tree climbing trip soon, which I'm sure will generate even more to photograph and write about.