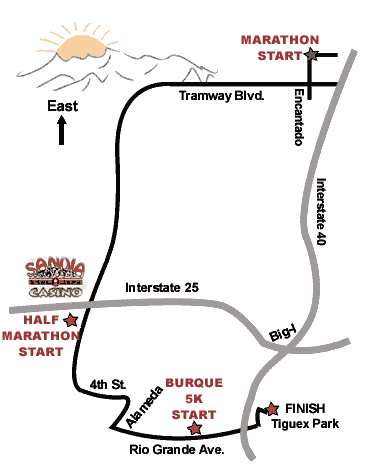 What a day! I don't know what was more of a shock - getting up at 4:30am (which was 3:30am in Los Angeles) to start at 5:30am, the altitude (5,000-6,200 feet), or all that clean air.
The marathon started on Tramway, which parallels the city along the base of the mountains. When I lived in Albuquerque, I used to run along this street quite frequently, but never before in the dark. It was actually quite pleasant despite the 8 miles of uphill because there was a beautiful view of the city lights below and also because it was difficult to see just how steep the hill was in the dark.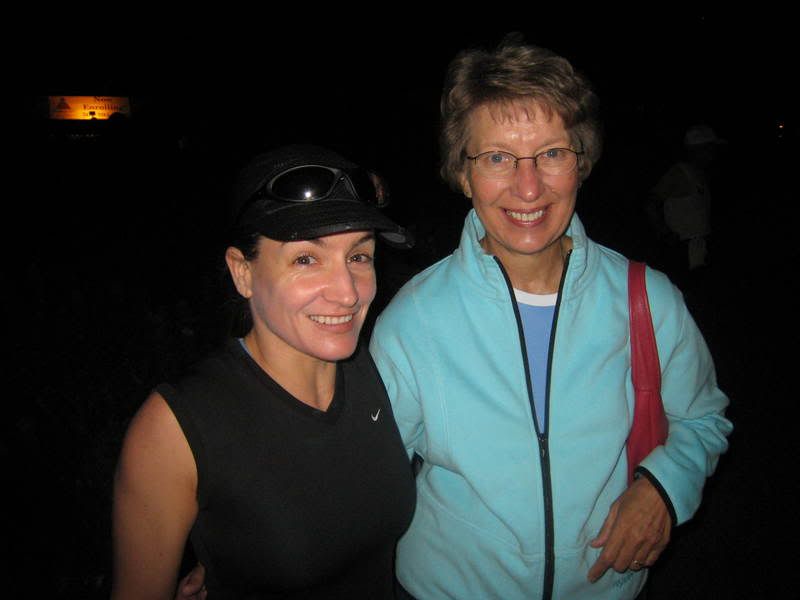 Bright camera flash + early morning darkness = funny facial expression.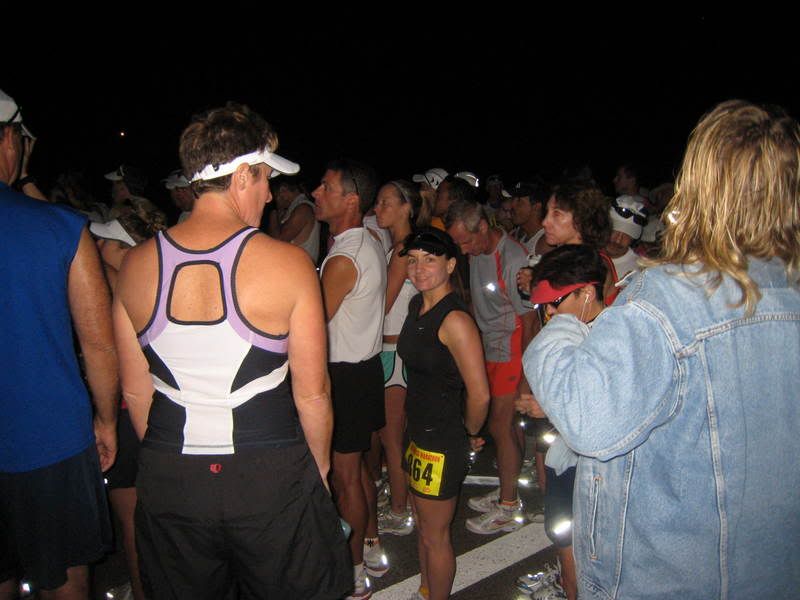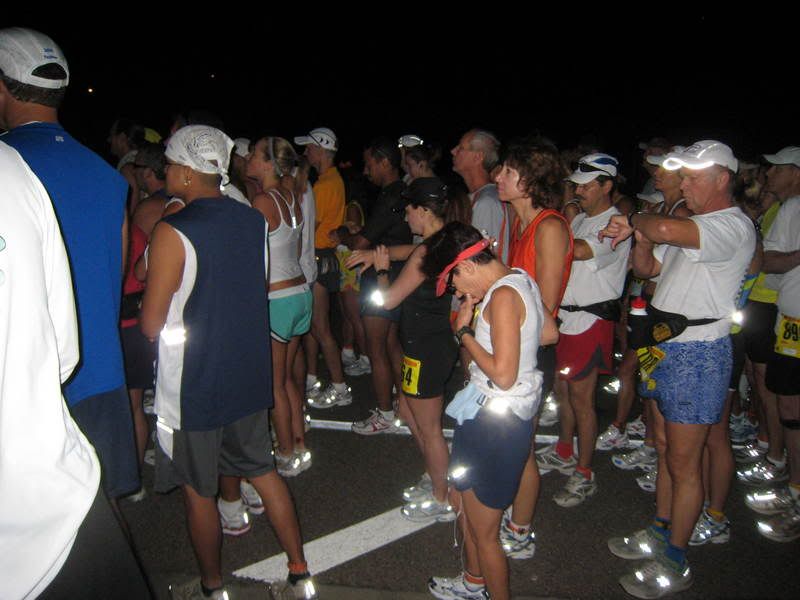 The start!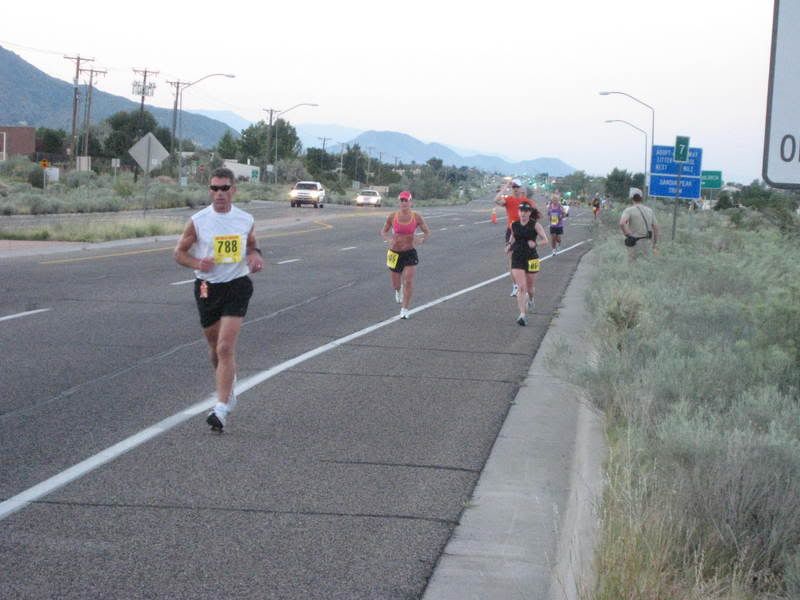 Running north on Tramway near the top of the hill just as the sun came up.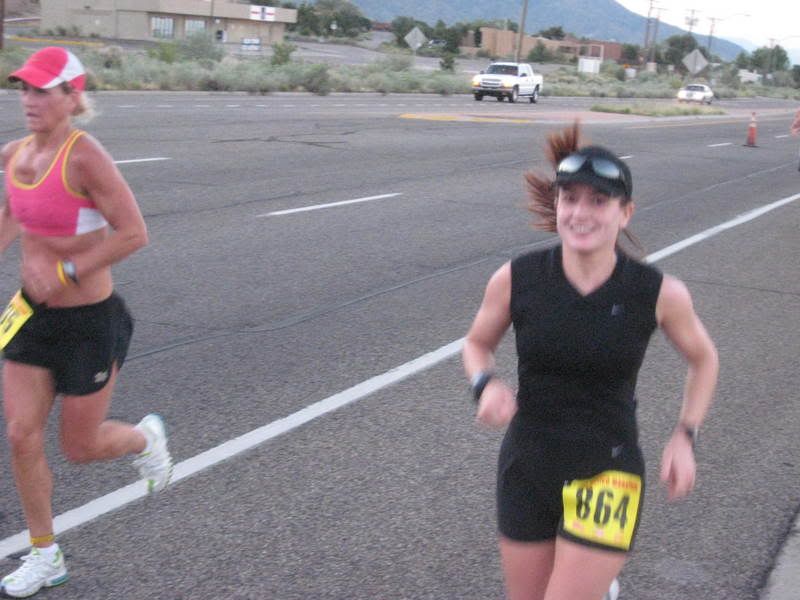 Dad asked me if I wanted any coffee around Mile 8.
It made me smile and suddenly, I no longer needed coffee. Thanks Dad!
Then the sun was up by the time I started the seven mile downhill cliff.
That was quite an awakening.

Dad kept up a pretty impressive pace during this gel handoff. The Sandia Mountain range is seen in the background here at Mile 13. During the race, I saw cows, a hummingbird and lots of roadkill - very different than my usual LA city scenery.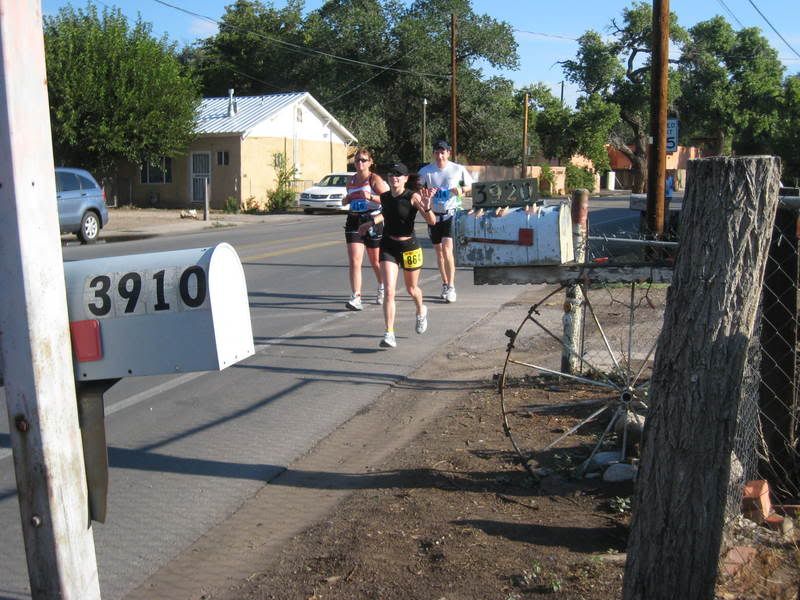 Nancy and Dad stood in this front yard of a house along Rio Grande Blvd. Notice the Christmas tree lights still attached to the wagon wheel. As runners went by, they thanked Dad and Nancy for "coming out" to cheer. Nancy realized that the runners probably thought that they lived inside that house. Big misconception. Dad usually gets the Christmas tree lights down by April.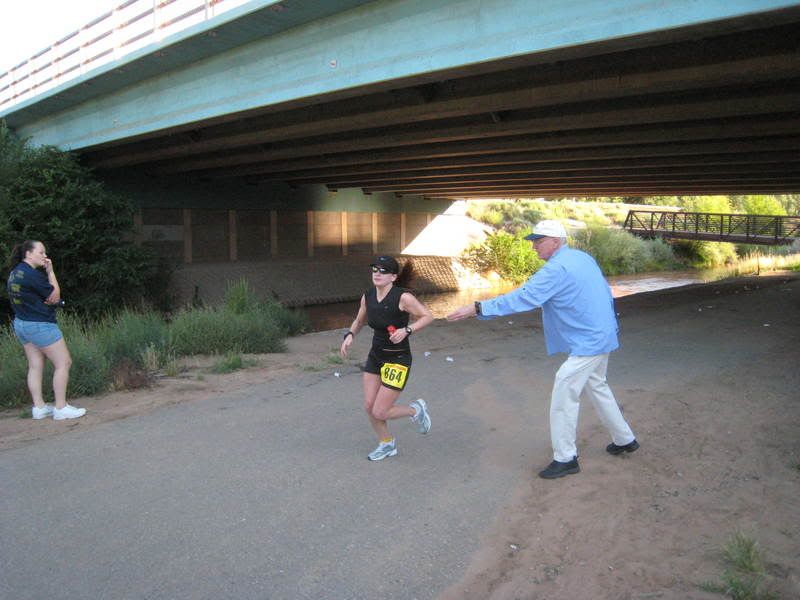 Around Mile 18, the runners were on a bicycle path for about three miles in the Alameda open space so Dad handed me a gel that I saved until Mile 20.
Deputy James McGrane, with the Bernalillo County Sheriff's Department, was killed in the line of duty on March 22, 2006 while making a routine traffic stop. His family has started the Deputy James McGrane Officer Survival Training Fund to support a street survival seminar for law enforcement officers in the State of New Mexico, with the objective of helping police personnel stay alive throughout their careers regardless of assignment or incident. Part of the entry fee from this event went to that fund. Deputy McGrane's parents are seen here at the finish line behind me.

My average pace was 8 minute miles for a total time of 3:29:38, but more importantly, I felt pretty good. The finisher's medal is actually a hand painted ceramic medallion with the state flag and red chili decorations.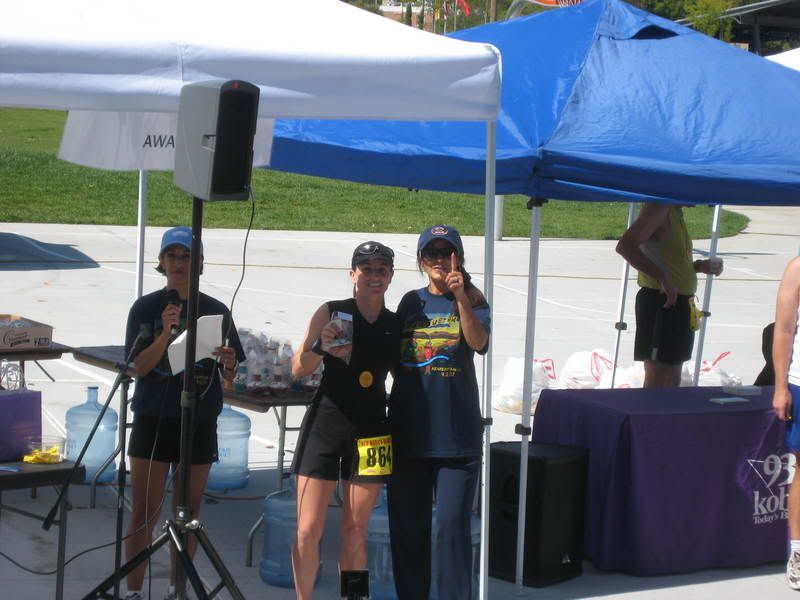 Third place in my division (females age 35-39) and fifth woman overall out of 108 women. There were 182 men for a total of 290 runners. We had lots of room to run, and there was never more than 3 people on any street corner yelling at the runners.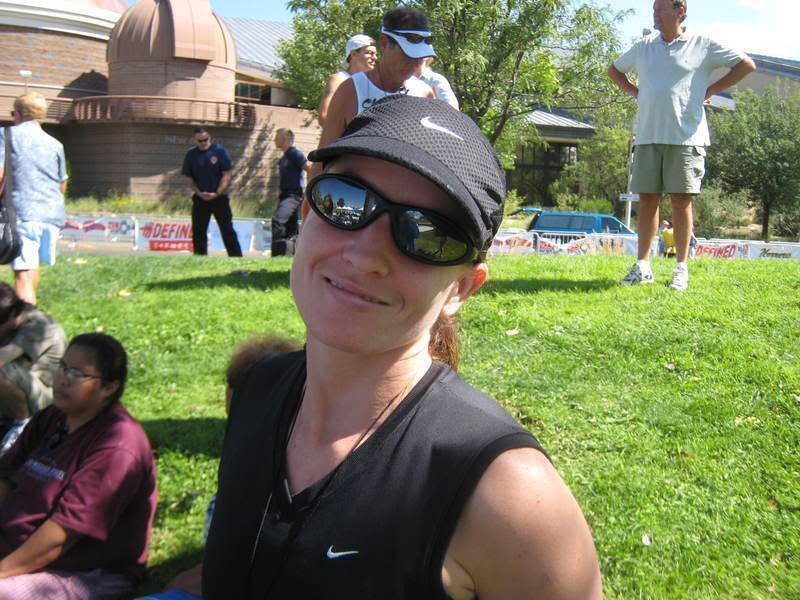 Smiling at Dad during the award ceremony.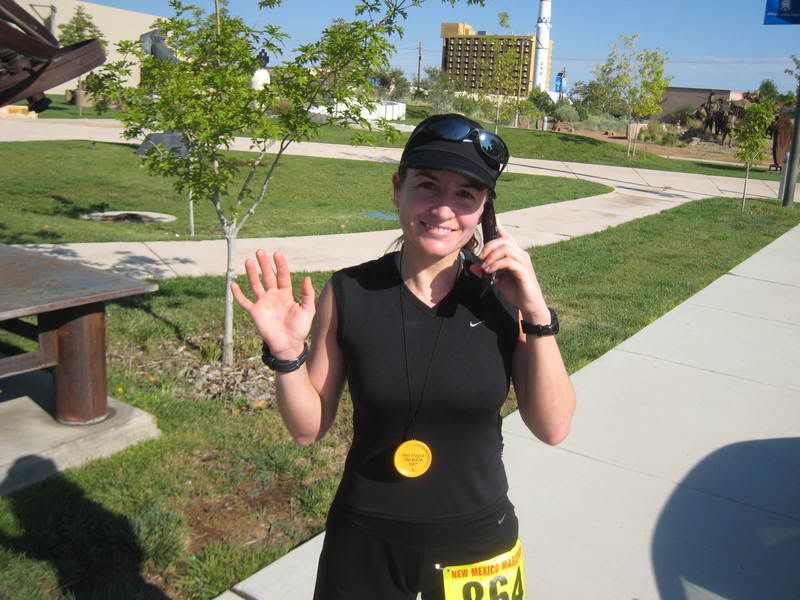 The post race phone calls to Mom, Lorenzo, and Coach John.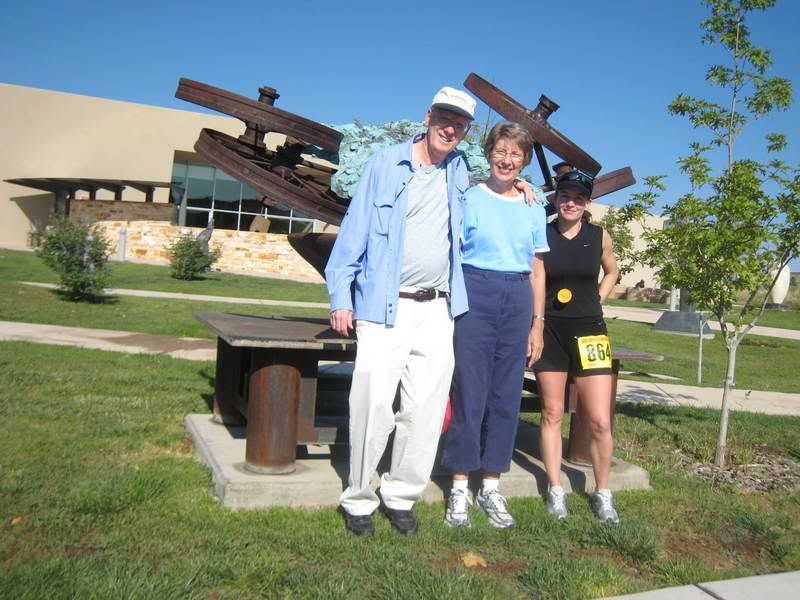 I definitely would not have had such a great day if Nancy and my Dad hadn't been there. Thanks to them, I kept smiling, stayed energized and felt great!
New Mexico Marathon Results Page